Popcorn Machine with Cart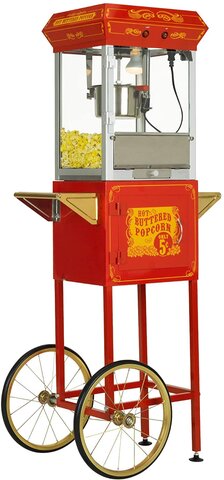 Description
Our Popcorn machines feature a stainless-steel hot oil kettle. Flip-up lid allow the popcorn to come pouring out as it pops. Pull-out kernel catcher separates unpopped kernels from your popcorn as you scoop in the irresistible theater style popcorn! Large 8oz stainless steel hot oil kettle that heats up quickly and disperses heat evenly to maximize the amount of kernels popped.
Includes servings for 30 guests.
Dimensions: 56.5"h X 15"w X 25"d.