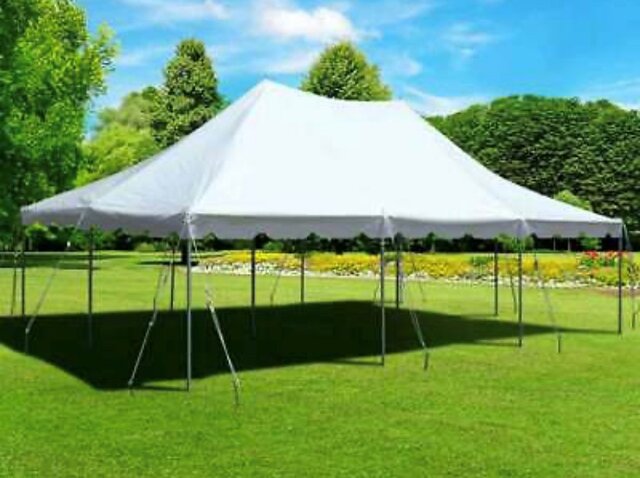 Pole Tent 20' x 30'
NOTE: We reserve the right to cancel any tent reservation on WINTER HAZARD WEATHER CONDITIONS without penaltis or previous notice.
ATTENTION: POLE TENT MUST BE SETUP IN A FLAT SURFACE GRASS AREA OR GRAVEL, UNEVEN OR SLOPE AREAS AND FREE OF TREE BRANCHS THAT TOUCH TENT TOP .
IF YOU ARE NOT SURE, PLEASE CALL OUR OFFICE AT (301)844-8424 BEFORE PLACING YOUR ORDER OR SUBMIT A PICTURE (TEXT OR EMAIL) FOR THE SITE, FOR US TO EVALUATE AS WE RESERVE THE RIGHT TO CANCEL OR DONT SETUP IF ISN'T UNDER OUR STANDARD SAFETY GUIDELINES.
Seating Capacity:
48-60 people for a sit-down dinner (60" round tables 8-10 chairs)
48-60 people for a buffet-style dinner (6' or 8' rectangular table 8-10 chairs)
125 people for cathedral (row) seating
If more space needed for Decor or Food table, please consider a larger sizeTent.

WE DO NOT ALLOW PROPANE GAS HEATER INSIDE ANY OF OUR TENTS.


PATIO HEATER MUST BE KEPT OUTSIDE TENT AT ALL TIMES.
Sidewall Requirements:
7ft tall. Sidewalls are available in Solid and Window styles.
Add-on price description:
Enclosed Sidewalls ( 2 side solid and 2 side cathedral window sidewalls) - $100.00
String lights for inside perimeter of the tent - $50.00
White Drapes to cover all Poles for the tent (except the center pole) - $50.00
Extension Cord 50' (In case needed for lights or Fan) - $10.00
Drum 24" Fan - $50.00
Patio Heater 48K BTU ( Propane life: 3-4 hours on high intensity)- $85.00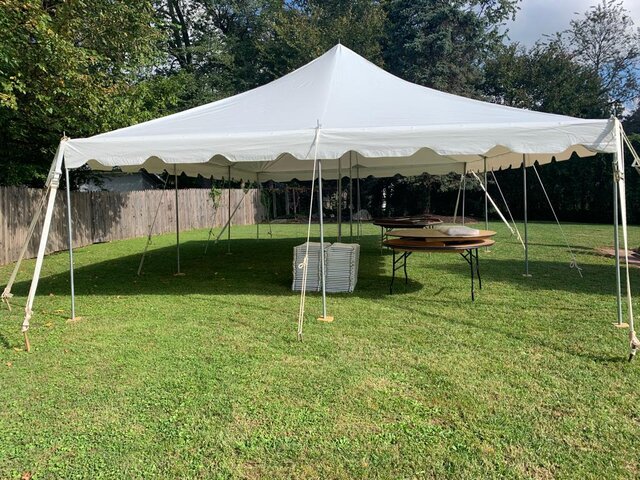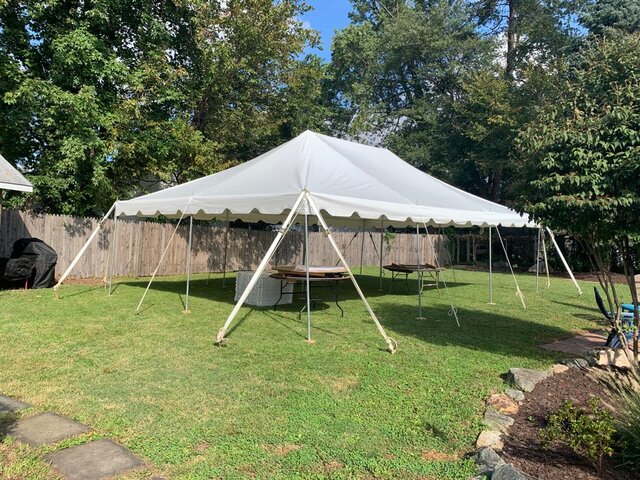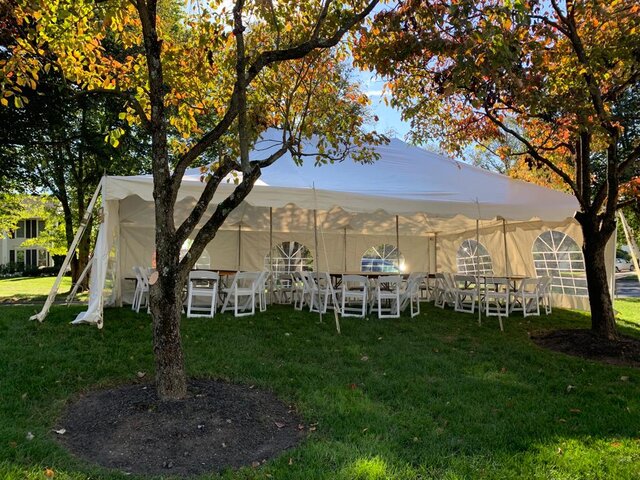 Please Note
: Pole tents are best suited for setup on grass or soft surfaces.