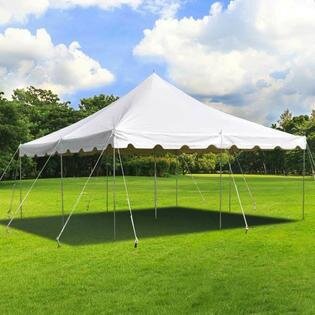 GRADE B - Pole Tent 20' x 20'
In order to insure the proper tent quality for your event, all tents are inspected, cleaned and graded on a regular basis. The tent grades are A, B or C.
A Grade tents are top of the line or wedding quality which means the tent is bright, crisp, and free of spots or stains.

B Grade

tents are what is considered a party grade, they look nice but the color might be slightly faded and some minor scuffing, stains, and repairs may be noticeable.

C Grade tents stand for commercial grade, these tents are structurally strong but will be faded, have large stains or spots on them. These tents are most commonly used for events where the only goal is protection from the weather and appearance is not essential.
Quality Control
Moments Party Rental's tent professionals use a Tarp under every tent for set up and tear down to protect the tent and provide you with highest quality possible. Inspection tags are placed on all tents after a tear down so that our warehouse and tent maintenance staff can clean or perform repairs as needed. Many people may think a tent is a tent, but we promise that it is noticeable the difference in quality with our tents.
Seating Capacity:
32-40 people for a sit-down dinner (60" round tables 8-10 chairs)
32-40 people for a buffet-style dinner (6' or 8' rectangular table 8-10 chairs)
80 people for cathedral (row) seating
If more space needed for Decor or Food table, please consider a larger sizeTent.
WE DO NOT ALLOW PROPANE GAS HEATER INSIDE ANY OF OUR TENTS.
PATIO HEATER MUST BE KEPT OUTSIDE TENT AT ALL TIMES.
Sidewall Requirements:
7ft tall. Sidewalls are available in Solid and Window styles.
Add-ons that we recommend for our Tents:
20' long Sidewalls on Solid and Cathedral window Style.
String lights for inside perimeter of the tent.
White Drapes to cover all Poles for the tent (except the center pole).
Extension Cord 50' (In case needed for lights or Fan)
Drum 24" Fan.
Tent Heater 170K or 80K for Cold weather.
Patio Heater 48K BTU ( Propane life: 3-4 hours on high intensity).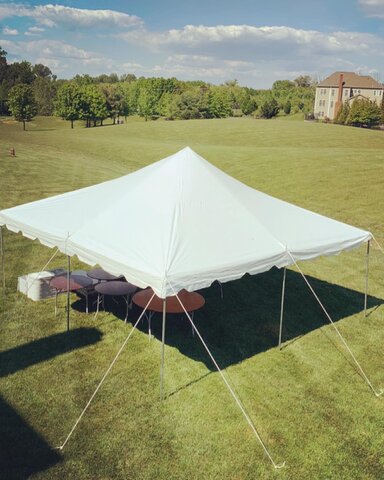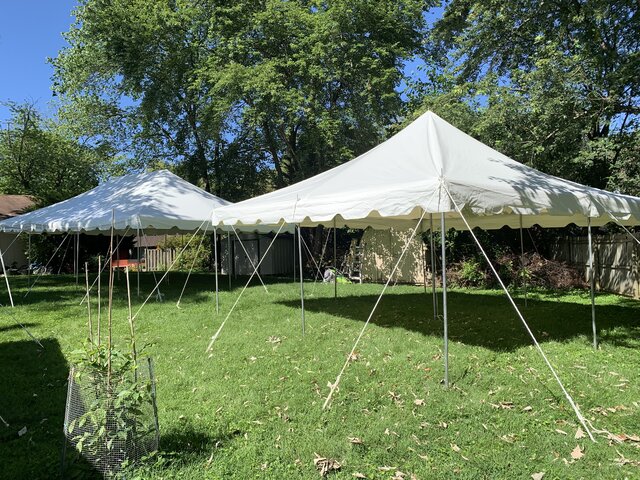 ATTENTION: OUR POLE TENTS MUST BE INSTALLED ON A FLAT SURFACE, GRASS AREA OR GRAVEL. THE AREA MUST BE FREE OF TREE BRANCHS THAT TOUCH THE TENT TOP. IF YOUR LOCATION HAS UNEVEN SURFACE, SLOPE AREAS, OR A DIFFERENT SURFACE PLEASE CONTACT US AT: (301) 844-8424 BEFORE PLACING AN ORDER. YOU CAN ALSO SUBMIT A PICTURE OF TENT SETUP LOCATION AND SEND TO US (TEXT OR EMAIL). OUR TENT TEAM WILL EVALUATE AND GET BACK TO YOU IN A TIMELY MANNER TO INFORM YOU IF WE CAN SETUP OR NOT. PLEASE NOTE THAT WE RESERVE THE RIGHT TO CANCEL OR NOT SETUP OUR TENTS IF THE LOCATION DOESN'T MEET OUR STANDARD SAFETY GUIDELINES.
NOTE: We reserve the right to cancel any tent reservation on ANY HAZARD WEATHER CONDITIONS without penaltis or previous notice. Safety is our priority.